Decal In. Italian Graphics Technology
Decal In is a company set up and registered in India, and forms part of a group of Italian enterprises consisting of 3 companies specialized in:
industrial screen printing,
decals
large-size decorations,
three-dimensional logos
UV LED technologies for printing sector
Decal In with registered office in India
76 Industrial Graphics Evolution by Serigrafia 76, Printabled with registered office in Italy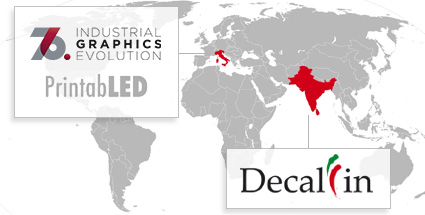 Decal In Made in Italy quality: it makes decals and mass-produced decorations for industrial vehicles, combining the creativity typical of Italian industries with the capacity to manufacture at industrial levels.
Thanks to a team of experts and thirty years' experience in the sector, the company produces large-size decals and decorations of all types for tractors, agricultural machines and earth-moving equipment, excavators, lift trucks and cranes for trucks.
Decal In replicates the organization and production model of Italian screen printing companies at mass-production volumes, providing a high quality service to enterprises operating in India.